Smaller, Faster, Stronger, Cheaper
Compact GigE Vision cameras with unprecedented speed and uncompromised image quality.
Introducing Genie Nano, a GigE vision CMOS area scan camera that redefines low cost performance.
Genie Nano starts with industry leading image CMOS sensors and adds proprietary camera
technology for breakthrough speed, a robust build quality for wide operating temperature, and
an unmatched feature set–all at an incredible price. Teledyne DALSA's proprietary TurboDrive™
technology allows Genie Nano to deliver its full image quality at faster frame rates—often 150% or
higher—with no changes to your GigE network. Like all Teledyne DALSA GigE cameras, the Genie
Nano is based on AIA GigE Vision Standard to directly link the camera to a PC.
Key Features
• Uses standard PC Ethernet port & hardware
• Supports cable lengths up to 100 m (CAT-5e or CAT-6)
• Simplified set-up with field proven Sapera LT software featuring CamExpert
• Engineered to accommodate industrial environment with a ruggedized screw mount RJ-45 connector
Programmability
• Higher frame rates achievable in partial scan mode
• Global electronic shutter with exposure control
• Multi-exposure feature
• Multi-ROI feature
• Metadata support
• IEEE1588 (Precise Time Protocol) support
• Binning
• Look-up-table and More
Reliability
• Robust all-metal body
• 3 year warranty
• Trigger to Image Reliability (T2IR) framework improves the reliability of your inspection system and protects you from data loss
Typical Applications
• Electronics manufacturing inspection
• Industrial metrology
• Intelligent traffic systems
Regulatory Compliance
• CE, FCC and RoHS
Please download the datasheet here.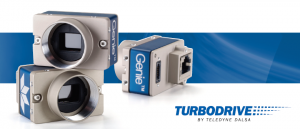 Active Resolution
Sensor Model
Frame Rate
(TurboDrive)
Pixel Size
Dynamic Range
Sensor Gain
Data Format
Part Number
(for C-mount)
M640/M640-NIR
640×480
On-Semi Python300
862 fps
4.8 µm
62.1 dB
Analog:  1 to 8x (18dB)
Digital: 1 to 16x (24dB)
8 of 10-Bit Mono
G3-GM10-M0640
G3-GM12-M0640 (NIR)
C640
640×480
On-Semi Python300
862 fps
4.8 µm
62.1 dB
Analog:  1 to 8x (18dB)
Digital: 1 to 16x (24dB)
8 of 10-Bit Bayer
G3-GC10-C0640
M800/M800-NIR
800×600
On-Semi Python500
566 fps
4.8 µm
62.1 dB
Analog:  1 to 8x (18dB)
Digital: 1 to 16x (24dB)
8 of 10-Bit Mono
G3-GM10-M0800
G3-GM12-M0800 (NIR)
C800
800×600
On-Semi Python500
566 fps
4.8 µm
62.1 dB
Analog:  1 to 8x (18dB)
Digital: 1 to 16x (24dB)
8 of 10-Bit Bayer
G3-GC10-C0800
M1280/M1280-NIR
1280×1024
On-Semi Python1300
213 fps
4.8 µm
62.1 dB
Analog:  1 to 8x (18dB)
Digital: 1 to 16x (24dB)
8 of 10-Bit Bayer
G3-GM10-M1280
G3-GM12-M1280 (NIR)
C1280
1280×1024
On-Semi Python1300
213 fps
4.8 µm
62.1 dB
Analog:  1 to 8x (18dB)
Digital: 1 to 16x (24dB)
8 of 10-Bit Bayer
G3-GC10-C1280
M1920
1920X1200
Sony IMX249
39 fps
5.86 µm
75.5 dB
Analog:1 to 16x(24dB)
Digital:16 to 251x(24dB)
8 or 12 bit Mono
G3-GM11-M1920
C1920
1920×1200
Sony IMX249
39 fps
5.86 µm
75.5 dB
Analog:1 to 16x(24dB)
Digital:16 to 251x(24dB)
8 or 10 bit Bayer
G3-GC11-C1920
M1940
1920×1200
Sony IMX174
84 fps
5.86 µm
68.3 dB
Analog: 1 to 16x(24dB)
Digital:16 to 251x(24dB)
8 or 10 bit Bayer
G3-GM10-M1940
C1940
1920×1200
Sony IMX174
84 fps
5.86 µm
68.3 dB
Analog: 1 to 16x(24dB)
Digital:16 to 251x(24dB)
8 or 10 bit Bayer
G3-GC10-C1940
M1930/M1930-NIR
1920×1200
On-Semi Python2000
116 fps
4.8 µm
62.1 dB
Analog: 1 to 8x(24dB)
Digital:1 to 16x(24dB)
8 or 10 bit Mono
G3-GM10-M1930
G3-GM12-M1930 (NIR)
C1930
1920×1200
On-Semi Python2000
116 fps
4.8 µm
62.1 dB
Analog: 1 to 8x(24dB)
Digital:1 to 16x(24dB)
8 or 10 bit Bayer
G3-GC10-C1930
M2590/M2590-NIR
2592×2048
On-Semi Python5000
51 fps
4.8 µm
62.1 dB
Analog: 1 to 8x(24dB)
Digital:1 to 16x(24dB)
8 or 10 bit Bayer
G3-GM10-M2590
G3-GM12-M2590 (NIR)
C2590
2592×2048
On-Semi Python5000
51 fps
4.8 µm
62.1 dB
Analog: 1 to 8x(24dB)
Digital:1 to 16x(24dB)
8 or 10 bit Bayer
G3-GC10-C25