Genie Nano Family: On-Semi Python 16M /25M
Versatile High Speed GigE-Vision Cameras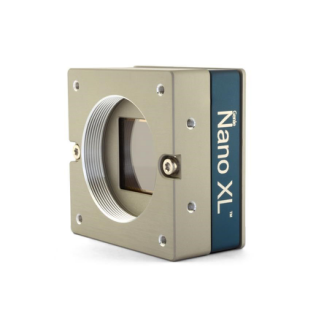 Genie NanoXL-M5100   
5120 x 5120 @ 20.1fps (Burst Mode)
Using the On-Semi Python 25K Monochrome
Genie NanoXL-M4090  
4096 x 4096 @ 30fps (Burst Mode)
Using the On-Semi Python 16K Monochrome
*Actual transfers with TurboDrive is Image content dependent.
Genie Nano Family: NanoXL-M5100/4090 models  
Description
The Genie NanoXL, a member of the Genie Nano camera family, provides a new series of very high resolution, affordable easy to use digital cameras specifically engineered for industrial imaging applications requiring improved network integration.
Genie NanoXL cameras use the industries' latest leading sensors such as the On-Semi Python series of global shutter active pixel-type CMOS image sensors.
Genie Nano cameras combine standard gigabit Ethernet technology (supporting GigE Vision 1.2) with the Teledyne DALSA Trigger-to-Image-Reliability framework to dependably capture and transfer images from the camera to the host PC. Genie Nano cameras are available in a number of models implementing different sensors, image resolutions, and feature sets, either in monochrome or color versions.
Compact and versatile with PoE capability
Teledyne DALSA is pleased to introduce our next two models in Genie Nano Family spearheaded by the latest fast sensors from the ON-Semi Python CMOS family with 16 Megapixel and 25Megapixel resolutions.
Product Name
Full Resolution
Max internal Acquisition*
Pixel Format
Max Frame Rate Output**
(without TurboDrive)
NanoXL-M5100
5120 x 5120
20.1 fps
Monochrome 8-Bits
4.5 fps
NanoXL-M4090
4096 x 4096
30 fps
Monochrome 8-Bits
7 fps
* Using the High Sensitivity Design firmware
** Assuming 115MB/sec on Intel PRO NIC
Camera Models
NanoXL-M4090
NanoXL-M5100
Sensor
On-semi Python 16K
On-semi Python 25K
Max. Internal Frame Rate (Fast Readout Enable)
31.2 fps at 4096 x 4096 resolution
20.1 fps at 5210 x 5210 resolution
Maximum Sustained Frame
Rate Output
(with TurboDrive)**
15.6 fps (8-bit) at 4096 x 4096 resolution
fps (8-bit) at 5210 x 5210 resolution
Maximum Sustained Frame
Rate Output (without TurboDrive)
7.1fps (8-bit) at 4096 x 4096 resolution
4.5 fps (8-bit) at 5210 x 5210 resolution
Pixel Data Formats
Mono 8-bit ( for monochrome model)
Exposure Time Minimum
µsec
µsec
Exposure Time Maximum
sec
Exposure Control
Internal – Programmable via the camera API
External – Based on Trigger Width
Gain Control
In-sensor Analog Gain (1x to 3.17x)
Multi-ROI Support
In-Sensor
Synchronization
Synchronization via external trigger signal or free run
Data Output
Gigabit Ethernet (~115MB/sec max)
Pixel Size
4.5 µm x 4.5 µm
Shutter
Full frame electronic global shutter function
Full Well charge
10K e- (max)
Output Dynamic Range (dB)
55.3 dB
SNR (dB)
39.9 (in 8-bits)
Responsivity
see graphic on below
Spectral Response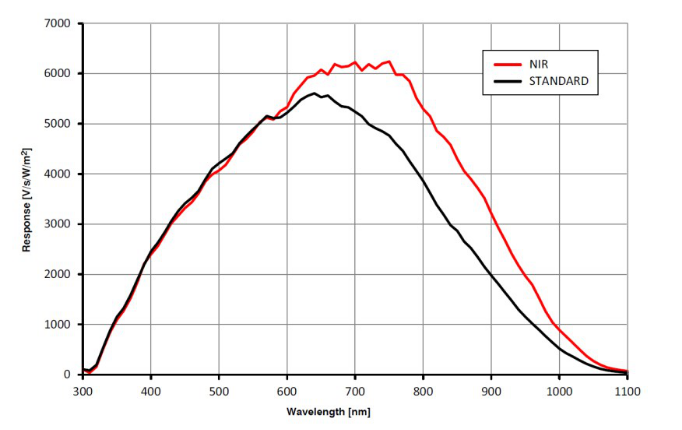 Standard Monochrome Models
Camera Controls
Exposure Modes
Programmable in increments of 1usec .minimum 43usec
Pulse controlled via Trigger pulse width.
Trigger Inputs
Opto-isolated, 2.4V to 24V typical, 16mA min.
Debounce range from 0 up to 255 µs
Trigger delay from 0 to 2,000,000 µs
Strobe Outputs
Output opto-isolated:
Aligned to the start of exposure with a programmable delay, duration and polarity
(using "start of exposure on output line source" feature)
Features
Image Buffer
500 MB of on-board memory
Timestamp
1µs internal timer to timestamp images and events
Test image
Internal generator with choice of static and shifting patterns
User settings
Select factory default or either of two user saved camera configurations
TurboDrive Technology
Turbo 8-bit pixel format (Requires Sapera LT 8.02 or later)
Back Focal Distance
M42 mount models
12 mm
Mechanical Interface
Camera (L x H x W)
30 mm x 59 mm x 59 mm (without lens adapter or connectors)
Mass
~163g
Power connector
via 10-pin connector, or RJ45 in PoE mode
Ethernet connector
RJ45
Electrical Interface
Input Voltage
+10 to +36 Volts DC (+/-10% Recommend range) on Auxiliary connector
+9 to +56 Volts DC (Absolute min/max Range) on Auxiliary connector
Supports the Power Over Ethernet standard. (PoE Class 3 as per IEEE 802.3af)
Power Dissipation
~6.6 Watt
Ethernet Speed
Gigabit Ethernet 1000Mbps (10/100Mbps not supported)
Data and Control
GigE Vision 1.2 compliant
Environmental Conditions
Operating Temperature
-20 °C to 60°C (Housing Temperature)
Operating Relative Humidity
10 % to 80 %, relative, non-condensing
Storage Temperature
-20 °C to +80 °C (-4 °F … +176 °F)
Storage Relative Humidity
10 % to 80 %, relative, non-condensing
For more information, send your enquiries to info@jm-vistec.com or call +65 6748 5517.