High-resolution Schneider-Kreuznach Xenon-Topaz lenses for 1.1" sensors

BAD KREUZNACH, 3 November 2015
The new Schneider-Kreuznach Xenon-Topaz lenses are now available to buy. These low-weight compact lenses are fitted with a C-mount and are suitable for modern 1.1" CCD and CMOS sensors with 12 megapixels and a pixel size of up to 3.0 µm. The image circle has a 17.6 mm diameter. The optimized imaging performance for distances from 1 m to infinity makes these lenses ideal for applications in the areas of traffic monitoring, surveillance systems as well as robot and machine vision. Thanks to their robust mechanics, the iris and focus are not sensitive to vibrations. This enables a high and even imaging performance across the entire sensor, even in unfavorable conditions.
Xenon-Topaz lenses are available in F2.0/30mm, F2.0/38mm and F2.0/50mm versions.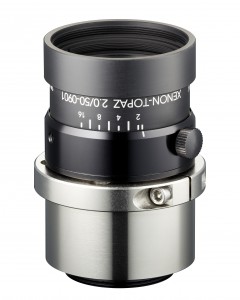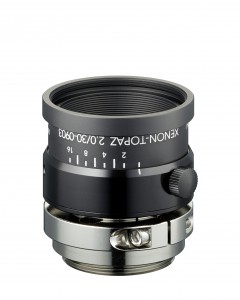 Industrial Optics business area:
Jos. Schneider Optische Werke GmbH designs, manufactures and markets optical and precision components and assemblies for machine vision and other image processing applications. Our high-quality optical solutions for image processing help system integrators and machine manufacturers improve their image processing systems.
About the Schneider Group:
The Schneider Group specializes in developing and producing high-performance lenses for photography and film, cinema projection lenses, as well as industrial optics, filter systems and precision mechanics. The group comprises Jos. Schneider Optische Werke, founded in Bad Kreuznach in 1913, and its subsidiaries Pentacon (Dresden), Schneider-Optics (New York, Los Angeles), Schneider Asia Pacific (Hongkong) and Schneider Optical Technologies (Shenzhen). The company's main brand is "Schneider-Kreuznach". It has around 620 employees worldwide, with 390 based in its German headquarters. For years now the group has been a world market leader in the area of high-performance lenses.